We Design, Build & Repair Commercial Cold Rooms in Singapore
We have been building cold rooms, servicing and maintaining commercial coldrooms in Singapore for over 30 years. We serve the cold supply chain and F&B industry with professional workmanship, quality parts and a wealth of experience.
Need our Service? Please call or WhatsApp
Our Coldroom & Commercial Refrigerator Repair Service Rates in Singapore
We offer high quality, dependable and honest service at middle-of-the-road rates. Our rates are highly transparent.

Service Call/Consultation Fee $40
We charge SGD40 for the expense with the time and travel to diagnose, inspect and provide expert recommendations once we arrive at your premises. If you do not wish to proceed with further repair work, this is the minimum amount we will charge.

Parts & Labour Cost
Once we determined the problem, we will offer a reasonable quote for your acceptance before we start repairs. We will deduct the service call fee from the overall Parts and Labour costs.

3 Month Warranty
For your peace of mind, we offer 3 month warranty on all parts and workmanship.
We Design and Build Commercial Cold Rooms in Singapore

Step 1: Give us your Specs
Let us know your requirements such as the 1. size of the cold room, 2. the operating temperature, 3. what kind of goods it will store, 4. it is for production or storage purpose, 5. what kind of doors you like (sliding or swing) and 6. preferably your floor plan.

Step 2: Site Inspection
We will come down to your premises to perform a feasibility study on site and take initial size measurements.

Step 3: Budgetary Quote
With the information you have provided, we will determine a budgetary quote for your consideration.
How we Build a ColdRoom from Scratch
This is a 14mx3mx3m commercial coldroom with separate chiller and freezer sections. The client is an established restaurant supplier using this coldroom as a cold storage facility located in western Singapore.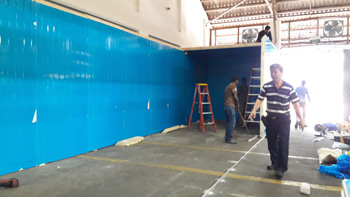 We start by laying the insulation panels for the cold room according to your specifications.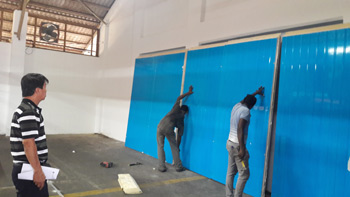 We pay strict attention to details right from the start.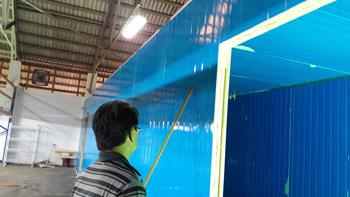 All panels for the cold room are in place, accurate to the inch.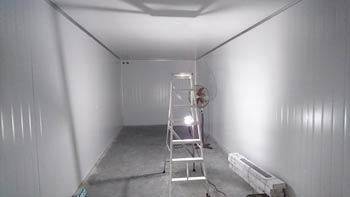 Completing the interior of the cold room.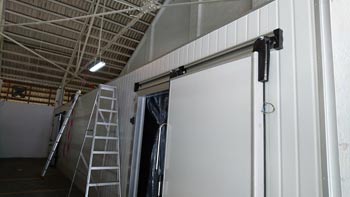 Installing sliding doors for the cold room. Swing doors requires larger space.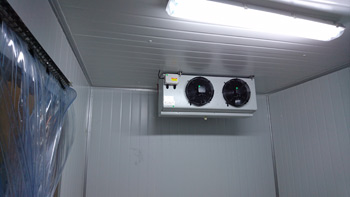 Optimal positioning of the fan coil unit is important for efficient cooling.
Ready-Made & Modular Coldrooms to Fit Any Space
Limited space? We have ready-made fully integrated coldrooms that you can deploy quickly and tear down fast.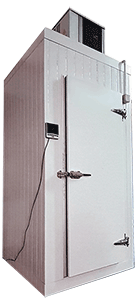 Simple and rapid installation with cam-lock joint for all panel joint, integrated refrigeration unit, built in lighting system and boltless rack system.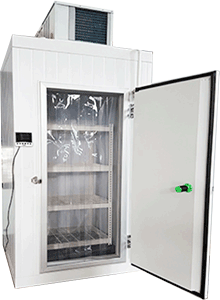 Chiller and Freezer configurations available. Operating Temp: +5 to -20 deg C suitable for vegetable and meat storage.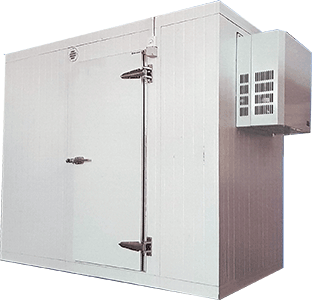 Sizes start from 1.1mx1.2mx2.3m. We have sizes suitable for wet market stalls, bakeries, restaurants and food stalls.
Ready to install sizes are available below. Takes standard power input: 220-240V/1 phase/50Hz
| Model Size | Length(m) | Width(m) | Height(m) | Internal Volume (m3) |
| --- | --- | --- | --- | --- |
| A | 1.2 | 1.3 | 2.3 | 2.2 |
| B | 2.2 | 1.2 | 2.3 | 4.0 |
| C | 1.8 | 1.8 | 2.3 | 5.1 |
| D | 2.8 | 1.4 | 2.3 | 6.5 |
| E | 2.3 | 2.0 | 2.3 | 7.8 |
| F | 2.8 | 2.0 | 2.3 | 9.7 |
Contact us for a Cold Room Quotation or Cold Room Servicing
Call Us, Write Us, or Knock on Our Door